It's true. Exactly one year ago I sat down at my PC, looked on STEAM, noticed Micah was online, and there Absolution began.
It's a simple story when you think about it. It kind of went like this:
Peter: Hey.
Micah: Hey.
Peter: You know, we should film something.
Micah: Alright. What did you have in mind?
Peter: How's about zombies?
And from there we spent the next two hours thinking about characters, setting, and how we would present the story. We decided to do zombies because they're low budget and easy to do. Then we decided that having the story focus more on the characters instead of the zombie would help us tell a more "professional" story. We also decided on doing seven episodes because we knew the scale of our story would be small and wouldn't last much longer without us having to use "filler" material, something that Micah and I refuse to use. This way, we had two episodes per act, and the seventh episode as an epilogue and complete ending to Volume 1.
Using the "volumes" was helpful to us as a story telling device. It allowed us to tell a complete story, and finish it within the same "season". Normally television shows will not end the story until the first episode of the next season. We felt that it was much more fun to end that story, and then tease what was to come for the next season.
Absolution: Before the Spread – Episode 1

Once we had a setting, we started on the characters. We knew we would have our friends playing the characters so we decided to create characters that would best fit the personalities of our friends.
Absolution: Before the Spread – Episode 2

Once we decided who we wanted, we built around them. We're also very thankful that everyone was willing to act for us. After that, it was off to writing and pulling everything together to make this happen.
During the creative process, we came up the idea to do stand-alone promos for each character. These promos would serve as a sneak peek of what the show is about and a glimpse into the lives of our characters. These turned out well for the most part, and are in my opinion one of the more unique aspects of Absolution.
Our very first promo was the one for Jordan Krause (portrayed by Josh Bouquet). It was filmed sometime during the month of May and officially started us on our journey to fully bringing Absolution to life.
From there we continued to write and film the promos until we got all seven characters' completed. After Jordan came Doug Gresham's promo which turned out to be one of our best promos. You'll notice that the musical tastes within most of them are alike. That's because we used the Nine Inch Nails album "Ghost" and "The Slip" which were both Creative Commons albums (meaning they were free to use as long as we didn't sell them).
So as fun as it is to talk about how it was filming them, it will probably be more interesting for you if you watch, so here's a look at us filming Roeber's promo:
Once the promos were taken care of we moved on to Pre-Production on the actual episodes. During this process we had many people doing multiple jobs. Charlie was acting and composing music, Micah was directing, acting, and helping with the music, while I was writing and directing. It was chaos to no end, but somehow, we managed to make it work. We were all able to get along very well and accomplish something together.
Finally, the day came during the third week of June that we would begin Principal Photography. We started with Episode One, though to be honest I can't remember what scene we started with. And off we went for two weeks of solid filming (except Sundays). It was long hours and lots of heat, but in the end, we made it happen.
An article such as this can't go without mention of one of people who without, filming Absolution would not have been possible. That man, is Billy Peake. Billy had a very nice camera and he knew how to use it. Helped teach Micah and I many of the rules that apply to filming a scene, and knew how to structure a narrative through the camera. Without him, we would have been lost many a times, so to him, I extend my dearest thanks and I wish him well in film school (where he is now).
One thing I just have to mention is the warehouse. When Micah and I were coming up with the story for Volume 1 we came up with the idea to have the climax of the volume take place during a raid on a warehouse. The problem we realized was obtaining a warehouse. Thanks to Nathan and some persistence, we were able to use CQB Airsoft Arena as our warehouse. Thankfully, it fit the look.
At the beginning of July we officially wrapped Principal Photography. It was a long two weeks, and yet, we had all the scenes filmed and ready to go so we could put Absolution together.
Post Production was the next step and to be honest, it's the longest. We're still doing Post-Production and it's a year later. But Post is when everything comes together.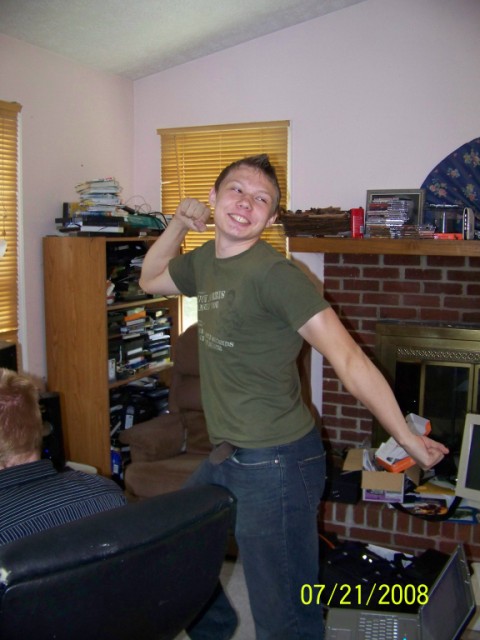 Ok, so editing wasn't all we did during Post…
There are many parts to an episode, there's the scenes, the audio, the color, and the music (and sometimes, special effects). All of these have to come together to form a complete and whole episode. In my opinion, with the exception of the scenes themselves, music the most important.
I once heard someone say that music was the universal language of emotion. They were right. No matter who are you, if you can hear the music, the tone for the rest of the scene is set. It adds that extra push that drives the feeling of the scene home. For example, Roeber's death in Episode 6. That scene would have come off completely different had it not been for the song "Eternal". That song perfectly fit the scene and drove home the point of sadness, loneliness, and at the same time: love.
Charlie was our resident composer. He did all of the music for Absolution (with a few exceptions). Everything from "James' Theme" to "Amen". Without his music, the aspect of Absolution was most unique, would be lost.
Finally, Episode One :"Green" was released on August 30, 2008. It was a huge moment for everyone who had put so much hard work into Absolution.
From then on we continued to work on and release the episodes as fast as possible. Unfortunately we gave ourselves deadlines: one episode a week. We overstepped ourselves a bit here, because we only have one person editing one episode at a time. In the TV Business, they have a different editor per episode. But once we hit Episode 6 I decided that I would break the deadline completely and take as much as time we needed to complete the episode right. It paid off immensely.
After Episode 6 was released Micah and I wanted to celebrate the end of the first season of Absolution by throwing a party. It took us a little while to get everything set up, but on January 20, 2009, it happened. The party was a huge success. We brought merchandise: three kinds of shirts and the Original Soundtrack. We also had the newly formed band "Anchorage" play which was made up of Charlie, Micah, Andrew Ottaviano, and Aaron Thies.
And now we're here. Episode 7 is soon to be released to the public and the cycle will start all over again, just with more cast members, locations, and stories. I'd like to thank everyone who worked so hard on this project, I'd like to congratulate you all on coming this far and bringing Absolution to life.
I also have to extend a special thanks to the McCormick and McFarland family. The McCormicks let us invade their home for two straight weeks so we could film Absolution. Without them, we would have no main set.
The McFarland family was also a huge help as Mrs. McFarland helped us organize things and even let some of our actors stay at their house during filming.
And of course, I'd like to thank my Mom and Dad for their support and to my Mom for helping us organize the dinners. Trust me, keeping people fed and happy is just as important as everything else we were doing.
There is obviously, one more very important person I must mention. His name is Micah McFarland. He is Co-Creator of Absolution, one of my best friends, and a good half of the reason Absolution is here today. Without his help, support, and teamwork, Absolution would have gone nowhere. I'd like to congratulate him as well on coming this far with me and accomplishing something awesome. Our very own home-grown TV show.
Congratulations to Year One everybody.